NARIMASU HIGH SCHOOL - The Beginning
Submitted by Geoff Smith, class of '49
Narimasu is really an offshoot of the older American School in Japan (ASIJ) then located in Meguro, founded just after the turn of the century. It fell into American military hands at the end of WWII and became a school for a variety of students - military and civilian dependents, children of missionaries and students from foreign "missions". Embassies were re-established later. The number of languages heard in the corridor was dazzling, with many students proficient in Japanese and English as well as their native language. Students were bussed in from all over the area, including Grant Heights.
For whatever reason - it may have been because ASIJ became overcrowded - Narimasu was built over the summer of 1948 to handle 7th-12th grades. It opened in the fall of 1948 with about 250 students and sixteen teachers. The principal was Lt. Col. Milan B. Steig. Unlike ASIJ, Narimasu's student body was almost totally made up of civilian and military dependents. They came from Grant Heights, Camp Drake (home of the First Cavalry Division), Tachikawa, Yokota and Johnson Air Force Bases. Some came also from China in the wake of the communist takeover there.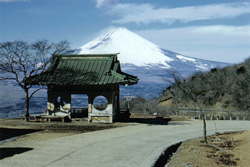 Click here for more photos of Life in Japan
Youngsters living in Grant Heights had already formed the "Samurai Club" which met to plan parties and outings - an ascent of Mt. Fuji was one such trip - and a newspaper called the "Samurai Sword" was published weekly.
Before the school opened that fall, Vice-Principal Marjorie Crouch met with three students to discuss plans. Asked what some of the new school rules would be, she said they would come as needed. But she looked (with clear disdain) at the students slumped, smoking in her new office and said "Rule #1 would be no smoking". (ASIJ permitted smoking on the grounds)
Mrs. Crouch agreed to allow the "Samurai Sword" to become the official Narimasu school newspaper; Geoff Smith, who started the paper, was editor the first semester and Margie Baum took over for the second. Elections were held to pick the school mascot. Frankly, it was rigged by the seniors. The Dragon was chosen; colors to be blue and white. Many thought green and white more appropriate, but since no one had ever actually "seen" a Dragon of either color - even after an evening on the popular Australian beer - the vote for blue and white stood.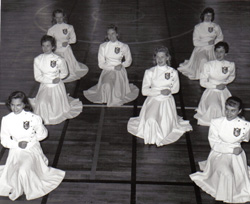 Click here for more photos of School Life.
Class officers were elected, clubs and teams were formed, and pupils used to the gum-chewing, candy munching informality of ASIJ found themselves in a somewhat more rigid, stateside-type environment. As with any school, there were dances in the gym, a sock hop in the Rotunda, Jr/Sr and Senior Proms, various class entertainments - even a student boxing match. Students continued to drive to Washington Heights for the regular, free Saturday night dances. A live orchestra played requests for the popular music of the day. But the number one hit on our Hit Parade was "China No Yoru", or "China Nights"...I remember the words today - in Japanese!
There were excursions to various sites like Nikko, Karuizawa and the Emperor's beach at Hayama - then a small thatched roof village - as well as Kyoto and the sights of Tokyo. In the previous summer an adventurous few worked on merchant ships. Students went deep sea fishing off PT boats at Zushi, attended Kabuki and the opera. They saw outdoor movies in Hibiya Park.
As a part of post-war reparations, all modes of Japanese transport up to 100 miles was free, so the trains were often filled with young people going to games, to Yokohama to visit friends, shopping at the big downtown PX, going to the Ernie Pyle theatre - whatever; students likely saw more of Japan than their parents or the GIs. They enjoyed the freedom of movement inconceivable in any major American city.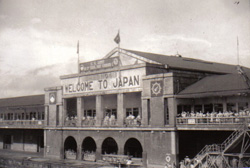 Click here for more photos of Life on the Base.
For some, a burger and a coke at the A&W "back home" became dinner at the world famous Imperial Hotel. Because it was a military billet they charged billet prices - forty-five cents! Orchid corsages were $3, gasoline was 10 cents, movies were 15 cents, and a carton of cigarettes was a $1. A $3 allowance went a long way.
A high point of the first year was the first basketball game against the Red Devils of Yokohama - a roundball powerhouse. They had fancy uniforms, they actually changed at half-time. Narimasu players - all seven of them - appeared in what they had: bathing suits! They lost the style matchup - but won the game by one point. And the National Championship as well, also by a point, beating ASIJ, St. Joseph's, Gifu, Siboney, Kyoto and fourteen GI teams along the way. Teams also competed in football, volleyball and track.
The 33 seniors attended the first ever graduation ceremonies at the Mitsui mansion, then an Officer's Club. Diplomas were handed out following a reception in the garden and a dance at the club. And they all scattered to the winds by summer's end.
Narimasu is gone now (closing in 1971), ASIJ is once again a private school that still gets annual donations from it's lost battalion of military era students. It holds reunions, as do the well-organized alumni of Yokohama High School
Many things made Narimasu different from stateside American high schools but one thing stands out. There was a constant turn-over as men rotated home with their families. This went on all year. Relationships forged in those tender years took a heavy battering of the kind teenagers in civilian schools never endured, nor could match in heartache - most of those people losing and never regaining contact.
Now, with reunions and widespread use of the Internet, those broken ties are being mended. Last year I got an e-mail that said: "Are you the Geoff Smith I knew in Tokyo?" It was from a classmate of mine I had not heard from in almost fifty years.
---
"How Washington Heights Began"
(Courtesy of Brian Killian NHS '61 and Stars&Stripes)


Click to download the full, printable article [650 KB pdf]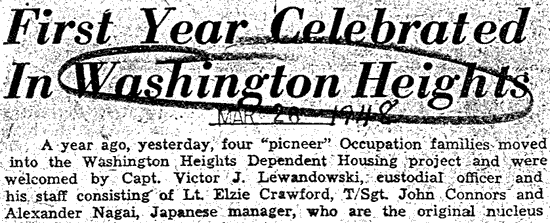 ---
"How Washington Heights Ended"
(Courtesy of Brian Killian NHS '61 and Stars&Stripes)


Click to download the full, printable article [1.2 MB pdf]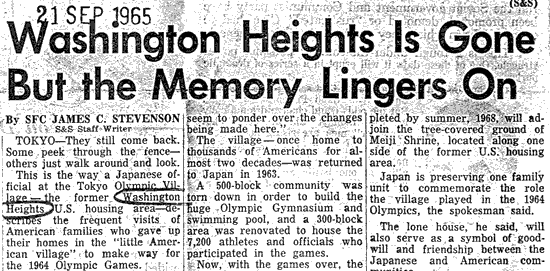 ---
"Former US bases leave green-space legacy"
by Todd Crowell
The metallic wings of Showa Kinen Park's gate may seem like the only reminder of its past. Once part of Tachikawa Air Base, or "Tachi," as hundreds of U.S. servicemen and their families called it from the 1950s to 1970s, it's now a beautiful park. It's one of several whose existence is, in part, due to the U.S. military.
At least half a dozen parks throughout the Tokyo area were formed out of pieces and parts of former bases and housing annexes. Together they add up to a considerable amount of green space in the crowded capital – and, in a way, a sizeable contribution to the city's green legacy.
In the 1950s and early 1960s the Kanto Plain was dotted with American-style housing areas to serve U.S. military bases. They went by such names as Washington Heights, Green Park, Pershing Heights and Grant Heights. One by one they were closed, consolidated or were turned over to the Japan Self Defense Forces.
Showa Kinen Park is the area that was once west of the Tachikawa AB's runway. The main entrance is at the end of a short overpass from the Nishi Tachikawa Station on the JR Ome Line. Unlike most parks in Tokyo, There's a modest entrance fee (400 yen for adults, 80 yen for children). But it's well worth it both for the beauty of the landscaping and the variety of attractions.
Visitors regularly show up to photograph the fields of flowers or cherry blossoms in season or the dragonflies at Dragonfly Swamp. There is also a miniature golf course, croquet and lawn bowling. Or one can hire a boat and paddle around Waterfowl Lake.
For culture hounds, there is the Japanese Garden, a Bonsai Garden and a reproduction of a 1950s farm village. A small memorial hall is dedicated to the Showa Emperor (Hirohito). The park opened in 1983 to celebrate his 50th year on the throne.
The only thing breaking the tranquility is the helicopters from the neighboring JSDF Eastern Army Aviation Group. They use the old 900-meter runway which is too short for high-performance jets. The failure to extend the runway against intense opposition eventually doomed Tachikawa as a U.S. air base.
The largest and most famous legacy park is Yoyogi Park near the Meiji Shrine and Harajuku. It was originally the site of the Washington Heights military housing complex, which was closed in 1963 and turned into an Olympic village for athletes at the 1964 Olympic Games.
Today, the park is a popular hangout for young people, especially on Sundays when it becomes a kind of street theater for musicians, martial artists or outlandish fashions. Many young people were attracted by the American ambiance because of nearby Washington Heights, which gave birth to the Harajuku scene that continues today.
Echoes of the American presence can still be seen today along nearby Omote-Sando Avenue. in the huge toy emporium Kiddy Land. It got its start selling kitchenware to the families from Washington Heights. The nearby Oriental Bazaar is still a popular place to buy Japanese souvenirs.
The American influence lingered long around what used to be Johnson Air Force Base in Saitama Prefecture. The runway and facilities were turned over to the Japan Air Self-Defense Force in the 1970s, becoming Iruma Air Base. The housing areas were turned into parks, including Inariyama Park in front of Inariyamakoen Station on the Seibu-Ikebukuro Line.
Japanese rock musicians and other bohemian types took over the former Hyde Park housing annex, turning it into a kind of commune known then as the "Sayama American Village." Eventually the houses were torn down and the park landscaped.
The 300 cherry trees and pine trees planted by the Americans remain in this hilly and wooded park. Each year the park hosts the Hyde Park Music Festival, keeping alive both the bohemian tradition and the name of the former housing annex.
Musashino City's Central Park occupies land that was once the Green Park Housing Area, which was built on the heavily bombed site of the Nakajima aircraft factory, famed for building World War II Zero fighters. It has open space for dog walking and Frisbee tossing, and a couple of tennis courts.
The former Grant Heights Housing Area in Nerima Ward was returned to the Japanese in 1973. They turned it into Hikarigaoka Park, a large patch of open space in northern Tokyo. It's famed for its bird sanctuary but also boasts sports facilities and camping grounds.
Few of these parks have any reminders that they were once the private preserves of American servicemen. Yet one can applaud the Japanese decision to resist the temptation to turn them into faceless apartment complexes. Americans also can take some pride in that a considerable amount of open space in the crowded city is a lasting legacy of their presence.